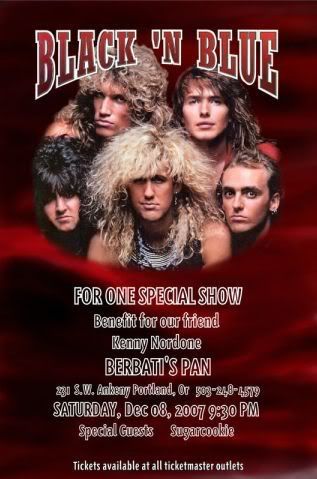 Instead of staying home twiddling my thumbs, I actually went out Saturday night. My friend Amy came up from Springfield, and she, Tony and I went to see
Black 'N' Blue
with Karen and her friend. They played at a club downtown off Burnside, which turned out to be a pretty decent venue. When we got there, people were busy milling around and drinking, so we were able to stroll right up to the front, where we settled in for the night.
Sugarcookie
was up first. They're a local band that plays mostly classic rock covers--Billy Idol, U2, and quite a few others I don't remember. They sounded good, and Amy found the guitarist especially entertaining.
Then it was time for the main event--Black 'N' Blue! All the original members were there, and you'd never guess they hadn't played onstage together in four years. Their set included the usual favorites--Hold On To 18, Miss Mystery, Nasty Nasty, Wicked Bitch, I Am The King, Rockin' On Heaven's Door, etc., plus Violent Boy and a cover of the Sweet classic, Action. The sound wasn't mixed well, but they sounded great anyway. And since we were in the very front, we got to experience rock 'n' roll the way it was meant to be--loud, raucous, and even sweaty (thanks, Jamie, for sweating on us and even accidentally spitting on us once). There were a few other benefits too, like shaking hands with various band members, watching Tommy Thayer play solos about six inches from my face, and having Jamie St. James knock on my head during
"Rockin' On Heaven's Door"
"School of Hard Knocks." Have I mentioned that I love front row?
For those of you not lucky enough to be there, here are a few souvenirs from the evening:
Video I shot of "Action":
Pictures!
Amy helps out with the fundraising raffle:
Jamie St. James, who now sings with Warrant:
Tommy Thayer, who's now with Kiss:
Patrick Young and Jeff "Woop" Warner:
Pete Holmes:
After Black 'N' Blue's set, various band members jammed with some of their special guests.
Mark Ferrari of Keel:
John Thayer (Tommy's brother):
I posted a bunch more pictures in
my Flickr account
.